This feature auto fills addresses in the record address details field from map geotag set by user while setting up address during creating a Record.
Admin Settings
This feature helps admin to allow/disallow Address Autofinder to following modules.
Lead
Contact
Organization
Calendar
*This feature is only accessible to users only when the following settings are enabled by Admin users in Web CRM :
Go To Settings > Other Settings > CTMobile Settings
Refer GEO(Location) Settings > Edit Google Map or OpenSteet Map option
Note : For Accurate result CRMTiger suggest to use Google Map but you should have an account with Google.
Select Module and set the following field.
Auto Address Finder field : This field allows use to Type 3 characters and it will Automatically list addresses from Google.
Address fields : Set various fields for Street,City,State,Country and Zip code so when the user selects address from "Auto Address finder field" it will Automatically copy address to other field selected as address field.
Note : Auto address finder only work for Google API. for openstreet map you will just move marker to get address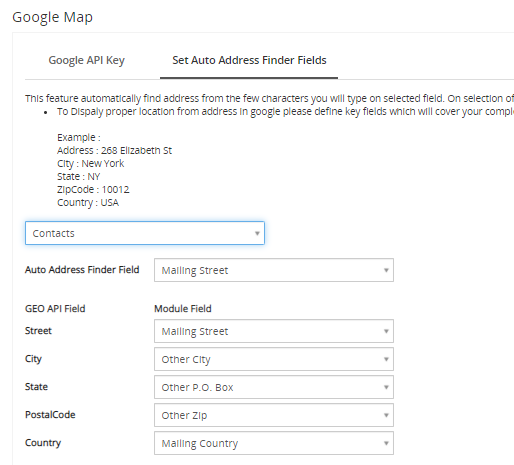 The following are the steps for filling up address details automatically.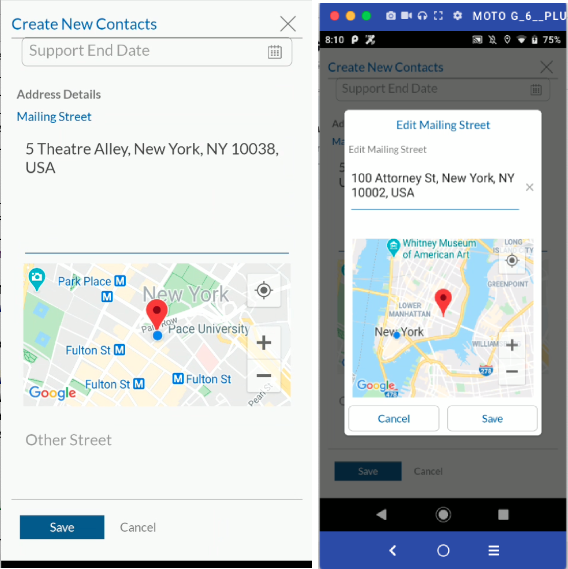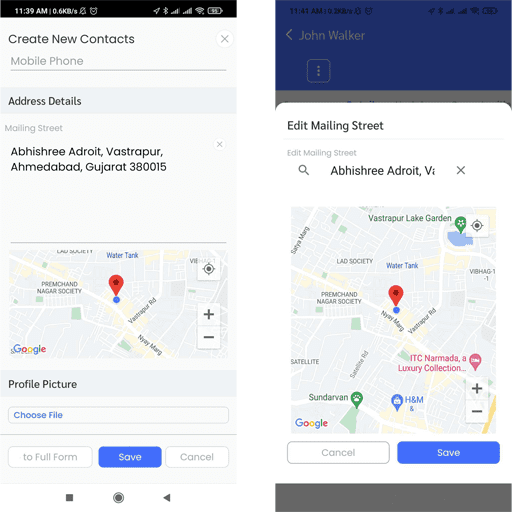 Go To Main menu > Marketing > Contacts.
Create new contact, refer to Go To Full form.
Enter Address details field.
Users can either type address or find location in the map, set geotag on preferred location.
The location will be auto filled with respect to the geo tag.