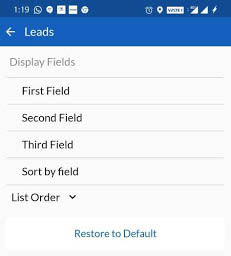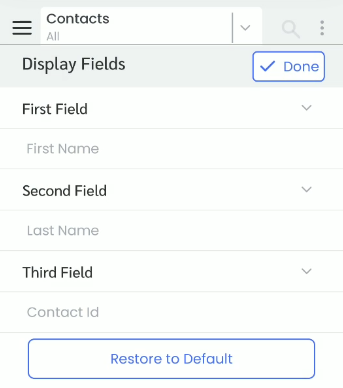 This feature allows users to customize record field display order based on the information priority user would like to set in record as required.
In the lead module, Go to settings , to change display fields.
In Display fields users can select from the drop down list for the First field, Second field, Third field .
Allow module access
Admin users are allowed to change the primary order of users record display fields,
for ex. Set First Field like First Name, Phone number, company … in record information display , likewise set Second Field, Third Field.
The Display field settings are accessible using the following path :
Go To Settings > Other Settings > CTMobile Settings > General Settings > Fields Configuration.
Refer Display Fields Configuration.
Select the module such as leads, contacts, organization, calendar, etc..
Select User admin would like to change display field order.
Select for First fields, Second fields, Third fields for display order and save.