2.Menubar
4.Email Tracking Functionality
10.​Email Count on Summary View
ABOUT CRMTiger
We are Technology Consulting company with expertise on Enterprise Softwares offering Development, Integration, Business Process Management and Implementation with Training.
CRMTiger team is expert to provide different types of the service related to vTiger® CRM. following is the services we offered to the trusted customers.
CRM Tiger offers
● Customization for vTiger®
● Migration for vTiger®
● Support
● Implementation/Deployment of vTiger®
● Integration of vTiger® with Telephony,Accounting,E-Marketing etc.. applications
We passionately enjoy helpingStartups and MSMEs to Market leaders and Large Corporates in making themTech Enabled
EMAIL TRACKER
I ) Introduction :
Email Tracking is designed for CRM tiger. This module is extensively developed for Tracking Email sent via vTiger. If user want to know that, sent email has been open and read from receiver then use tracking extension. We are showing email tracking for two division.
1) Charts
2) Summary
VTiger Email Tracking Extension enables emails sent via workflow or manually to be tracked, and records when the email was opened and how many times. It allows to trigger follow up notifications (emails to customers or notifications to VTiger agents) based on date/time the email was opened.
II ) Requirements :
vTigerCRM version7.0.
III ) Assumptions:
It is designed to allow users to view, edit & create Leads/Contacts, Organizations, Tickets, Opportunities, Activities & more from within the Email interface.It uses a custom module to create a record every time the email is open, which allows user to create reports and see emails open per day/month, emails open per subject/campaign & more.
IV ) Features :
● Compatible with Gmail & Outlook
● Interactive User Interface ( Chart, Grouping)
● Tracks Email sent Manually
● Tracks Open Date/Time + Total Opens
● Supports workflow Automations (notifications on open)
1. On Successfully Login, you will be presented with screen as Email Tracker.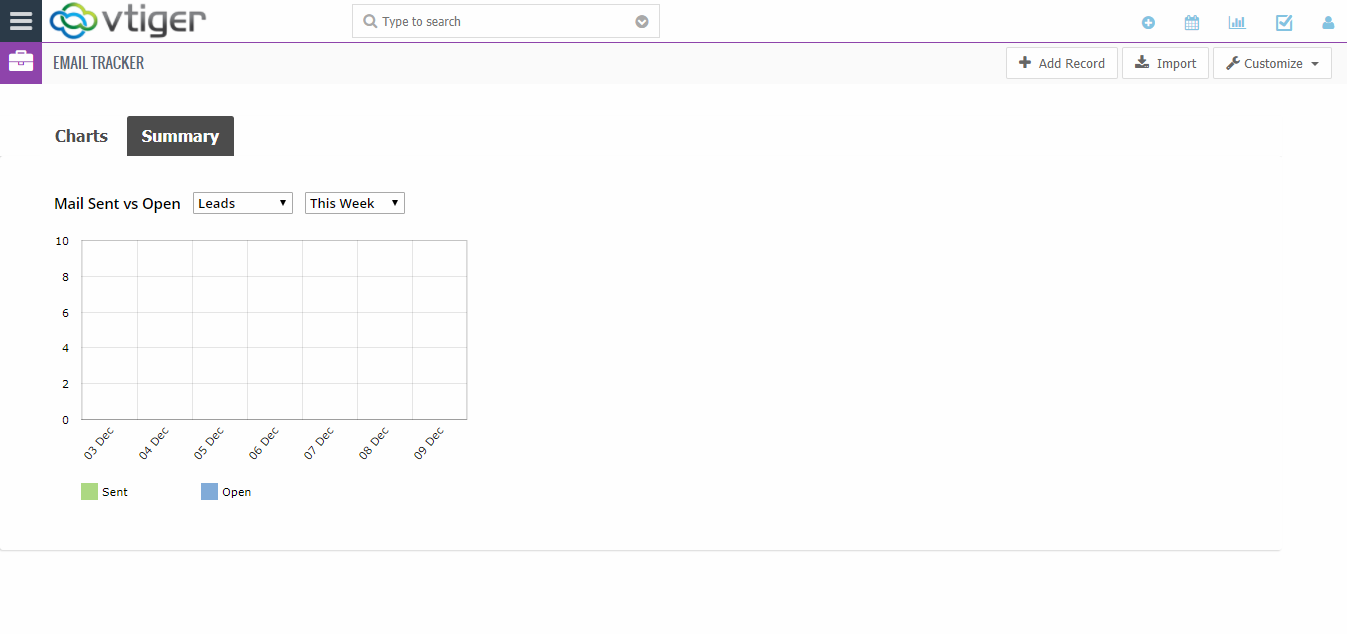 2. Email Tracker module will be available on Projects Menu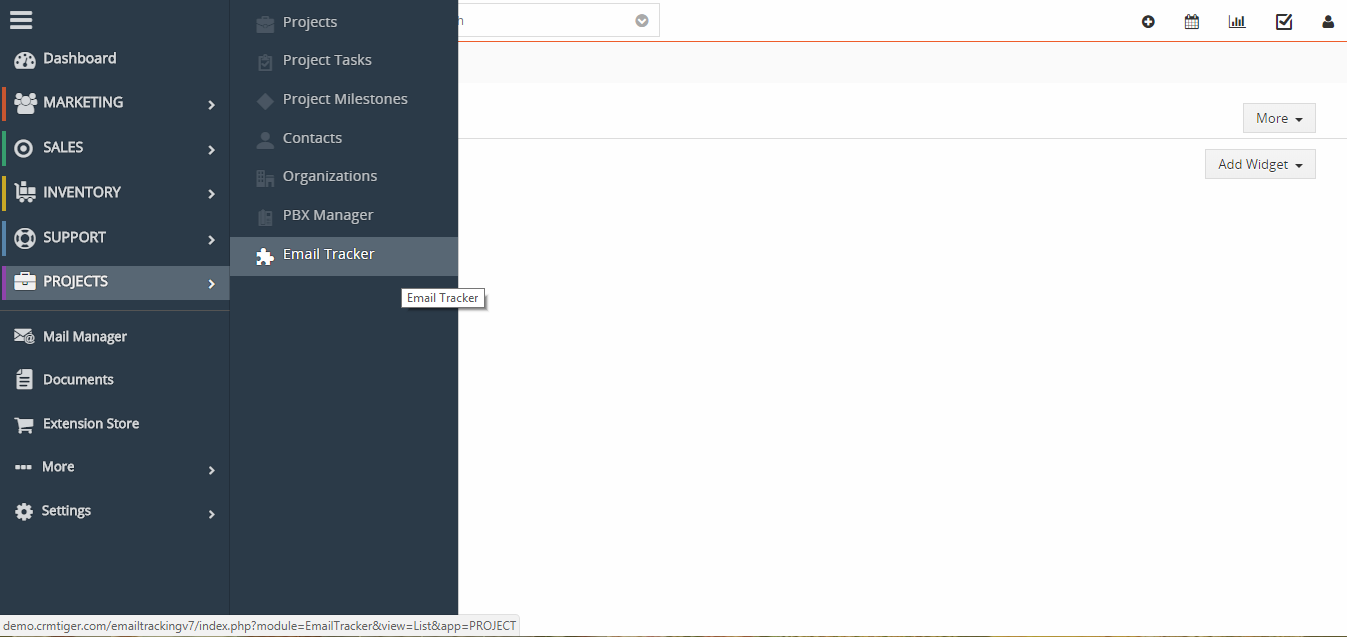 3. User can tracking Email for following modules: Leads, Contacts, Organizations, Vendors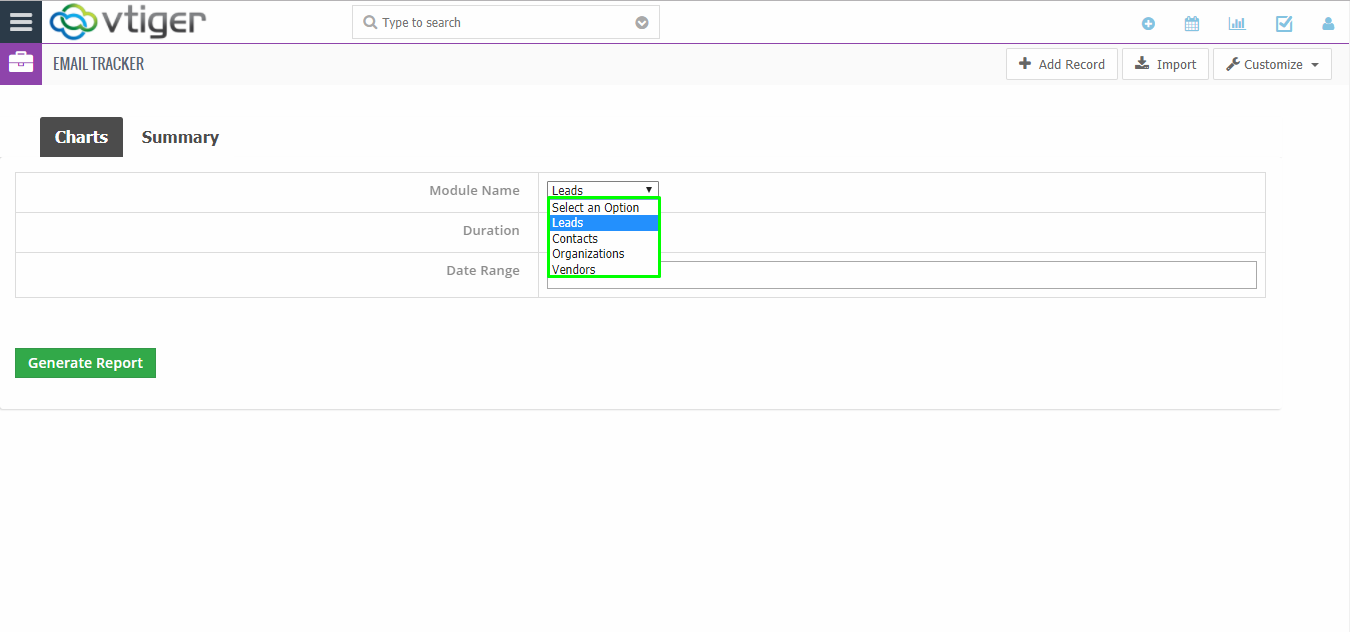 4. When user send email from Contact modules using send email then user can know that mail is sent or not using tracking functionality.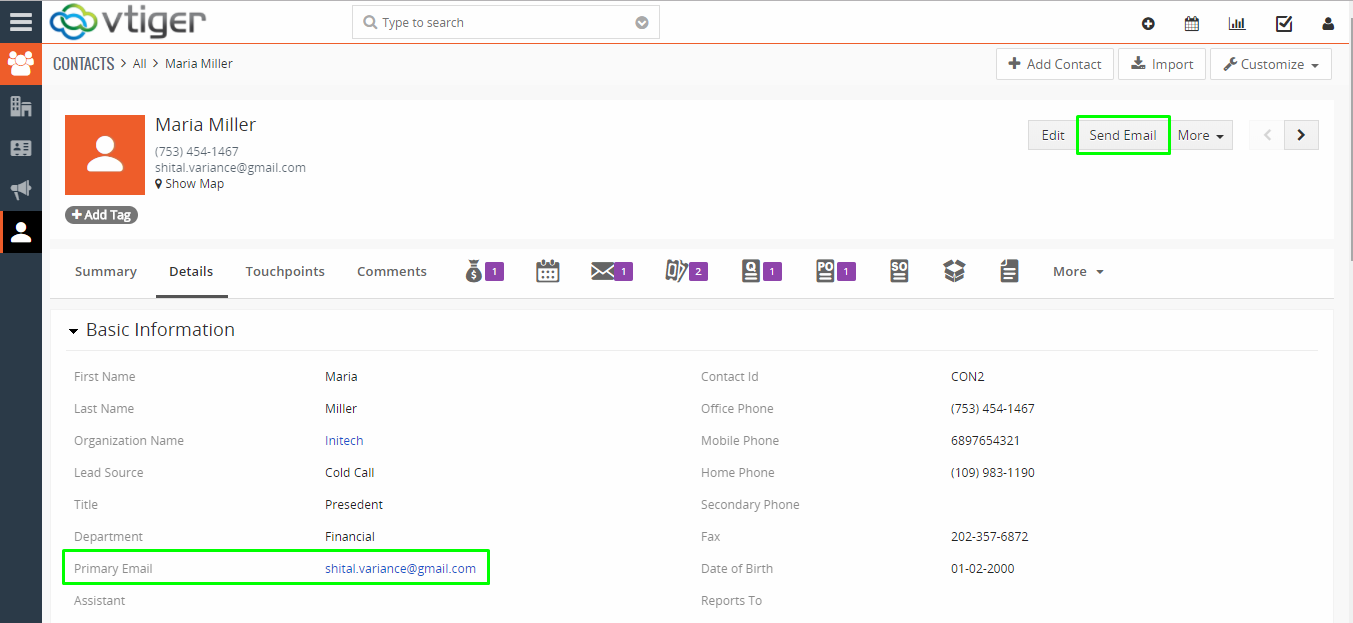 5. Open the Compose Email Popup and Send mail to appropriate email account.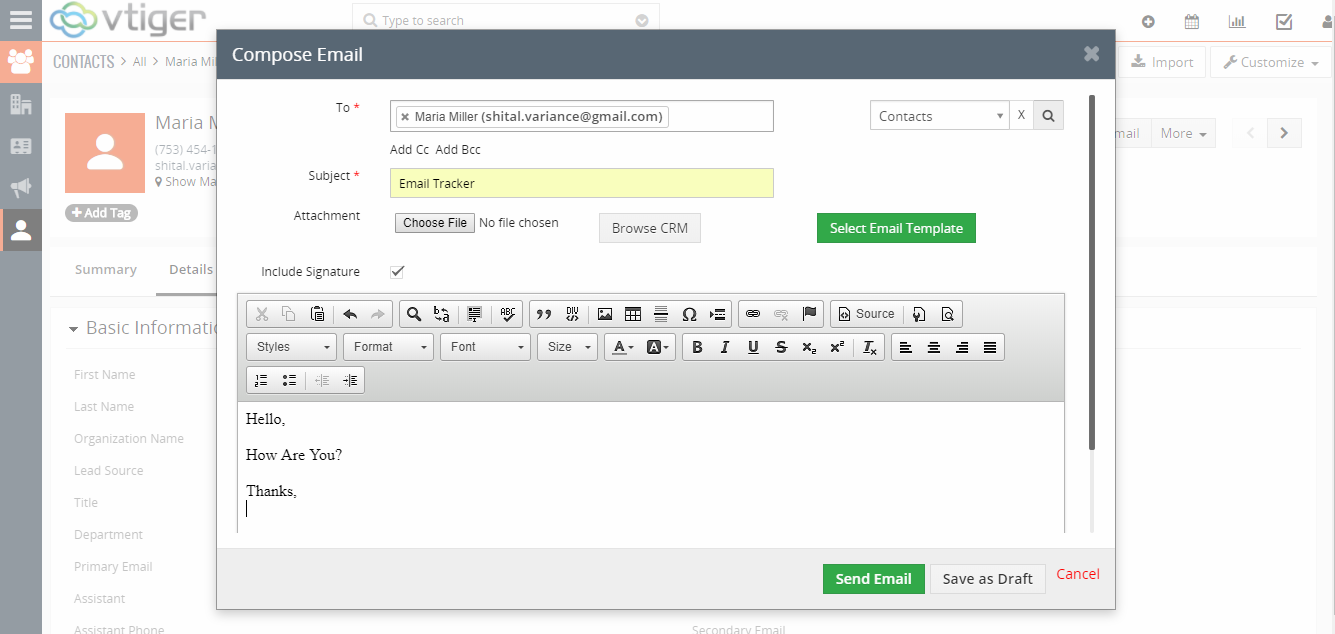 6. Go to Receiver Email account and verify Email details which I sent.

7. Go to Email Tracker module, User can know that Email is sent from Receiver on Chart view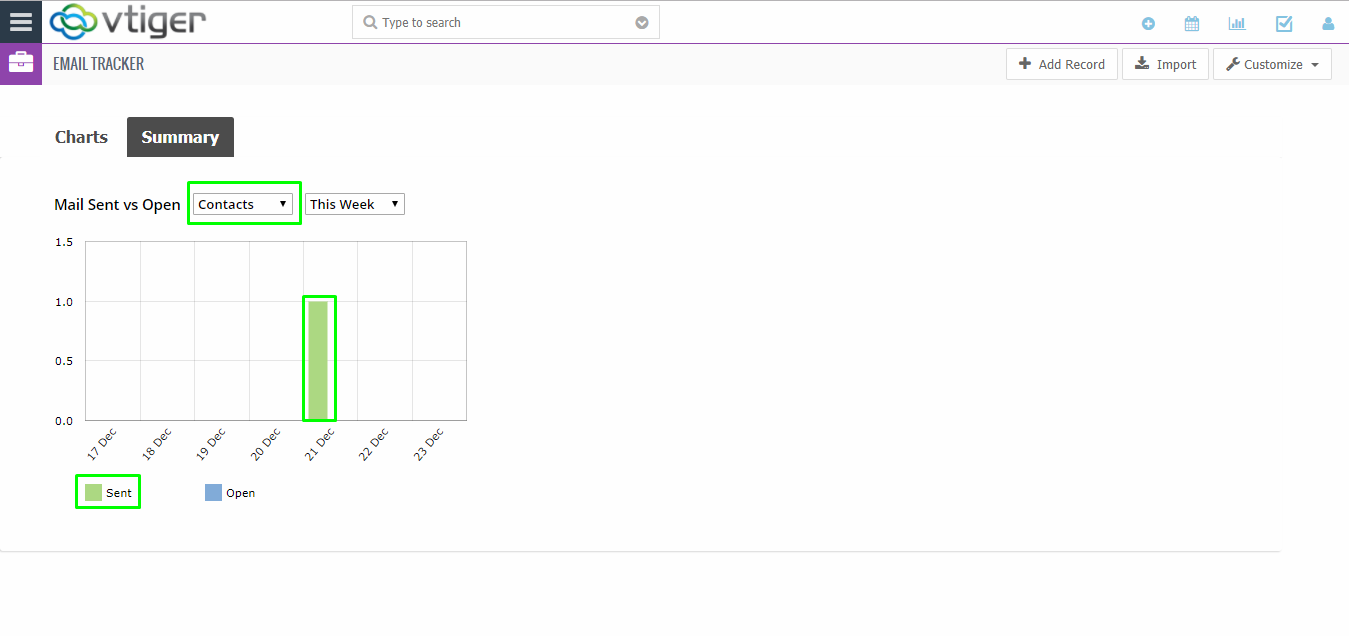 8. User can also View the Sent Email tracking functionality on Summary View.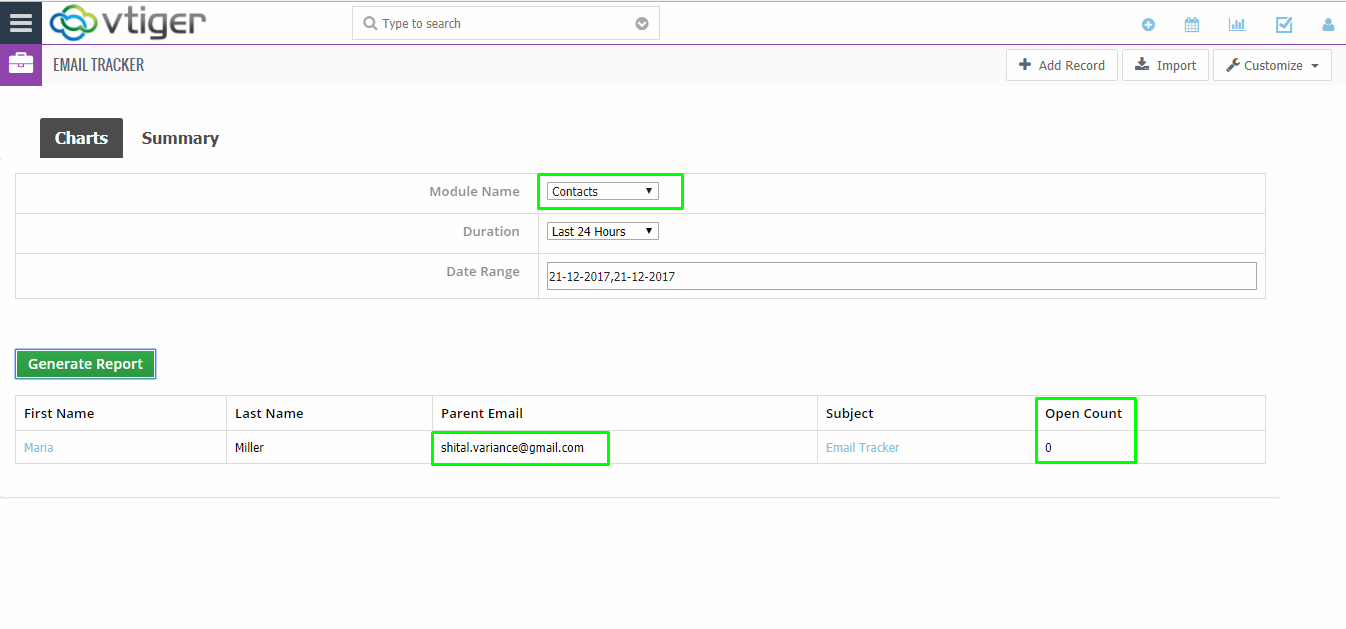 9. Go to Email Tracker module, User can know that Email is open from Receiver on Chart view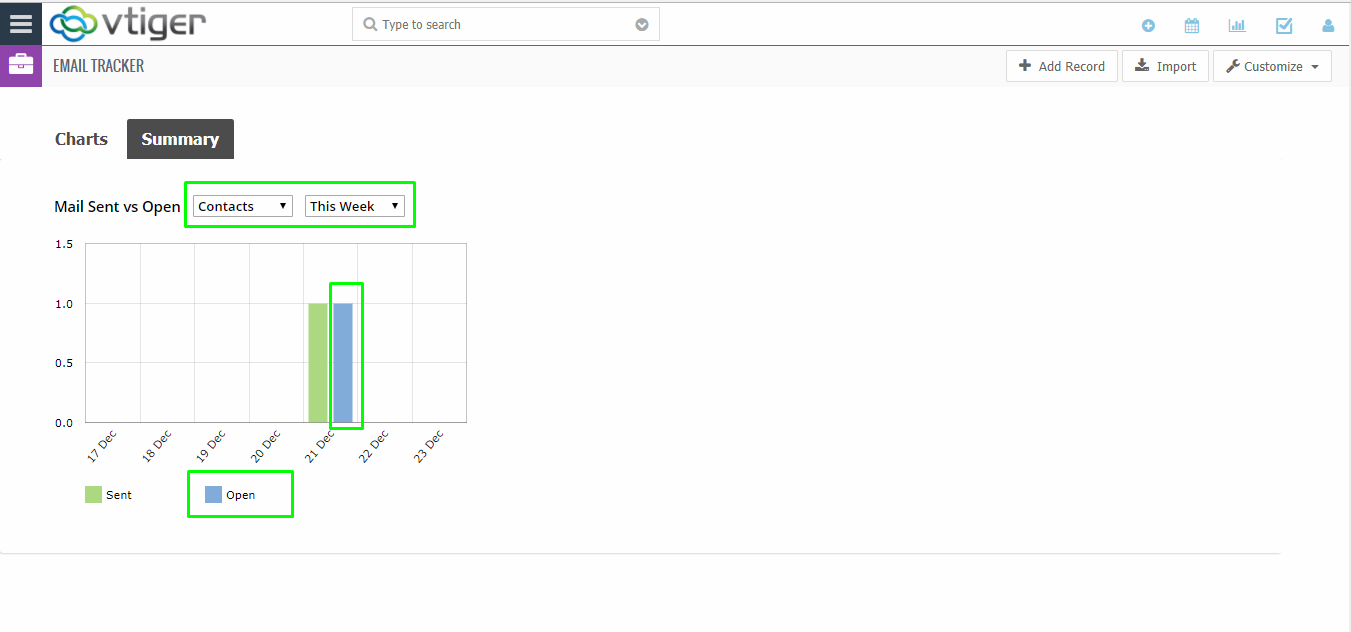 10. User can also View the Open email count on Summary View.