Once the connector is successfully installed, you will get the following menu option in Home -> Main Menu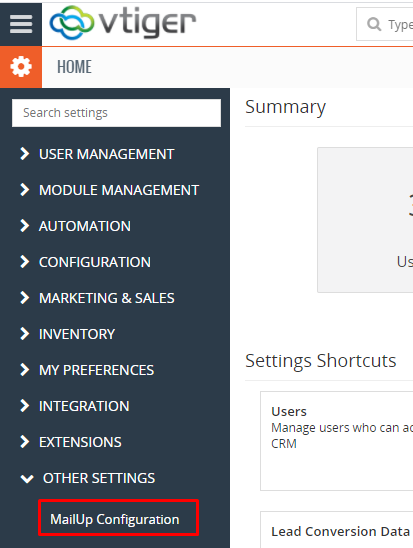 Clicking On the 'MailUp configuration' will open up the following configuration screen where the configuration details of the MailUp connector will be present.
MailUp configuration field setup: This screen displays a list of the fields to be filled with respected values as explained below.

API URL: 

This is a predefined field you need not have to change it

Secret key:

This is a predefined field you need not have to change it
ClientID and Client Secret:

Please follow the steps below to setup ClientID and Client Secret
Get content below from here…
MailUp allows access to a dedicated page that allows you to create an app and get its API keys.  
1.Log into MailUp with an "admin" account,
then go to

Settings > Advanced settings > Developer's corner > API keys

2. After pressing "New keys", you will be asked to specify the following 
a. the application name (very important in case of connectors you want to share with others)
b. the application description (i.e. its purpose, mandatory for featured apps in the integrations catalog)
c. the developer name (the name or the email address of a reference person)

3. Finally, press "Request keys" and you will be redirected to a list of apps that also shows the corresponding keys.

If you have a Whitelabel account, you won't have access to this page. In this case, you must request a "developer" MailUp account and get the keys using it. As stated in the previous paragraph, API keys are not tied to a specific MailUp account, so you are free to use them with an account that is not the one you used to create them
User Name:

Your MailUp username which you used to login to MailUp.com

 
Password:

Your MailUp password which you used to login to MailUp.com

 
Automatic Sync:

Automatic sync allows auto-sync records from MailUp to vtiger and from vTiger to MailUp
Maiup List configuration : 
This option allows you to select which list from MailUp has to be sync and associate groups, recipients, messages from MailUp.

MailUp and vTiger field mapping :
In the MailUp configuration screen, you can also find field mapping placeholders where you can map the fields from the MailUp into the CRM modules. Currently, the MailUp connector has been configured to receive data into 3 modules  – Leads, Contacts, and Organizations